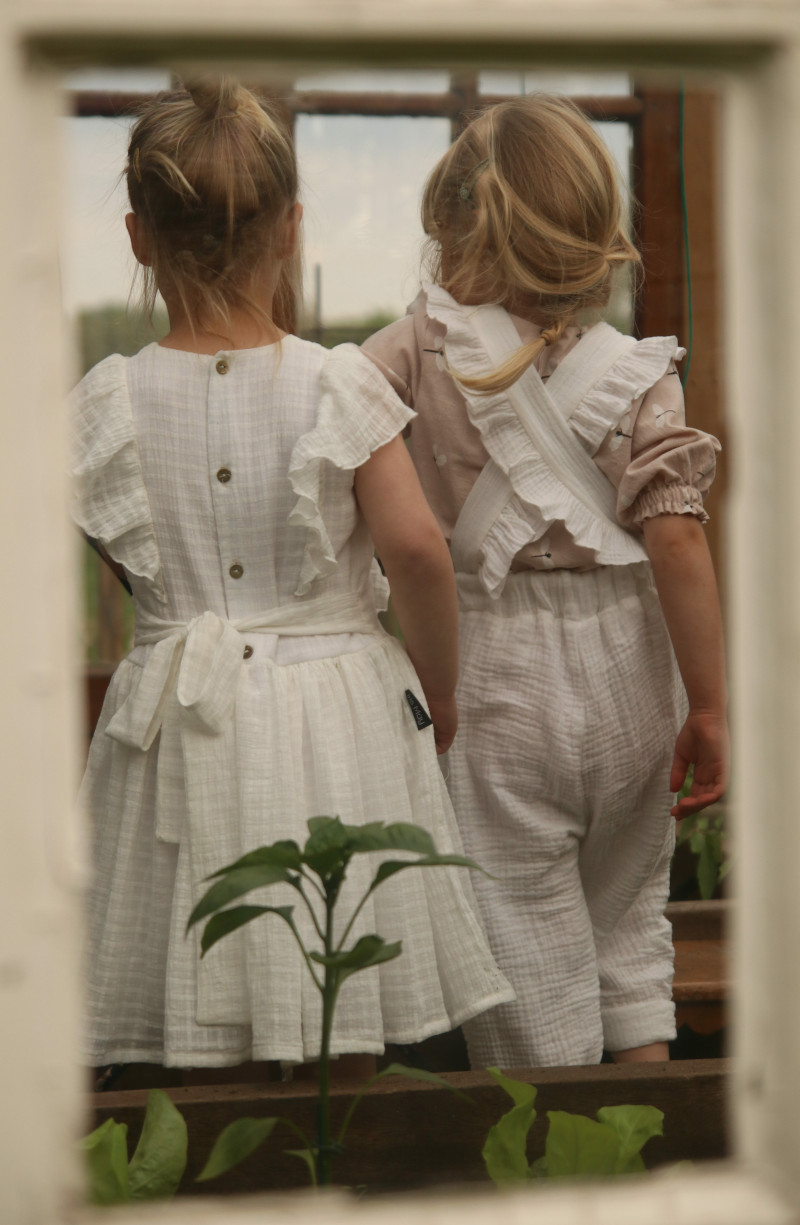 Monochrome Mania: Project run and play Week 2 – Little white angels
14 mei 2019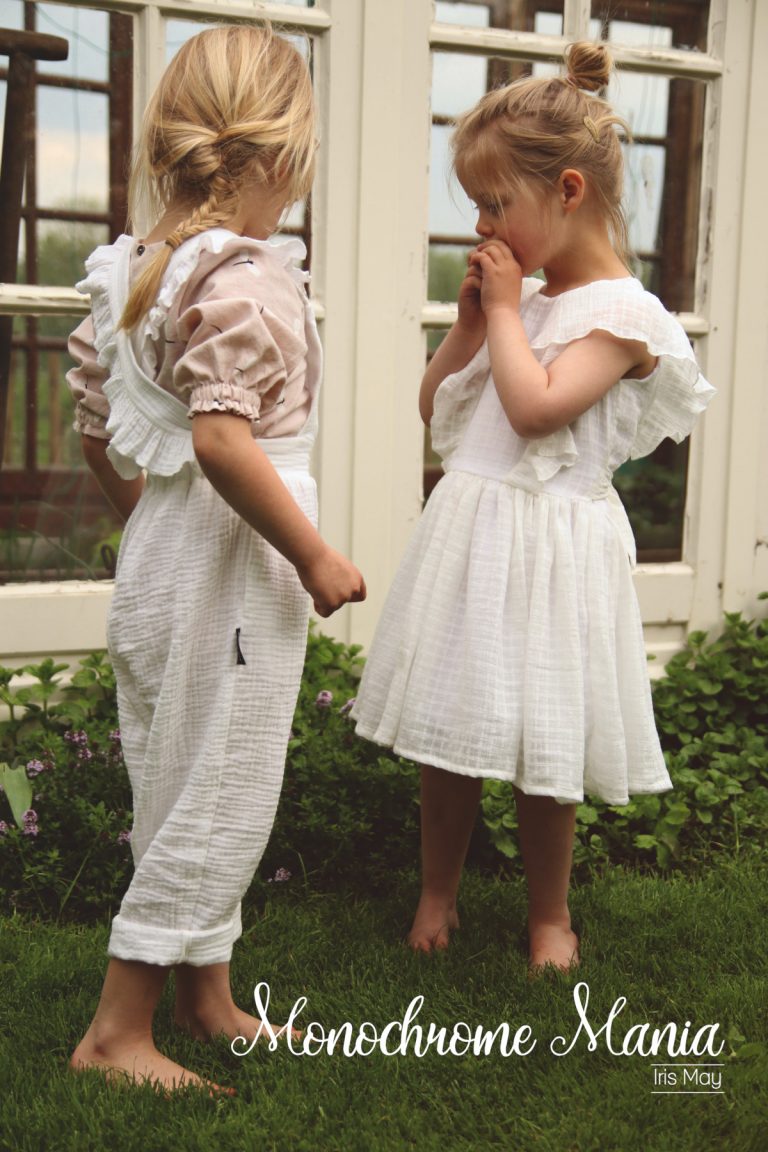 Een 'kleur' die altijd past, in verschillende stijlen thuishoort en met alle andere kleuren te combineren valt is wit. Wanneer ik aan witte kleding denk, passeren er spontaan verschillende feeërieke en engelachtige scenario's in mijn hoofd.  De kleur op zich inspireerde me dan ook om twee outfits uit te werken met een hoog 'engel' gehalte. Ik koos dan ook voor soepelvallende, luchtige katoenen stofjes, meerbepaald double gauze.
A 'color' that always fits, belongs in different styles and can be combined with all other colors is white. When I think of white clothing, several magical and angelic scenarios spontaneously pass my mind. The color itself inspired me to work out two outfits with a high 'angel' content. I therefore opted for ultrasoft, cotton fabrics, in particular double gauze.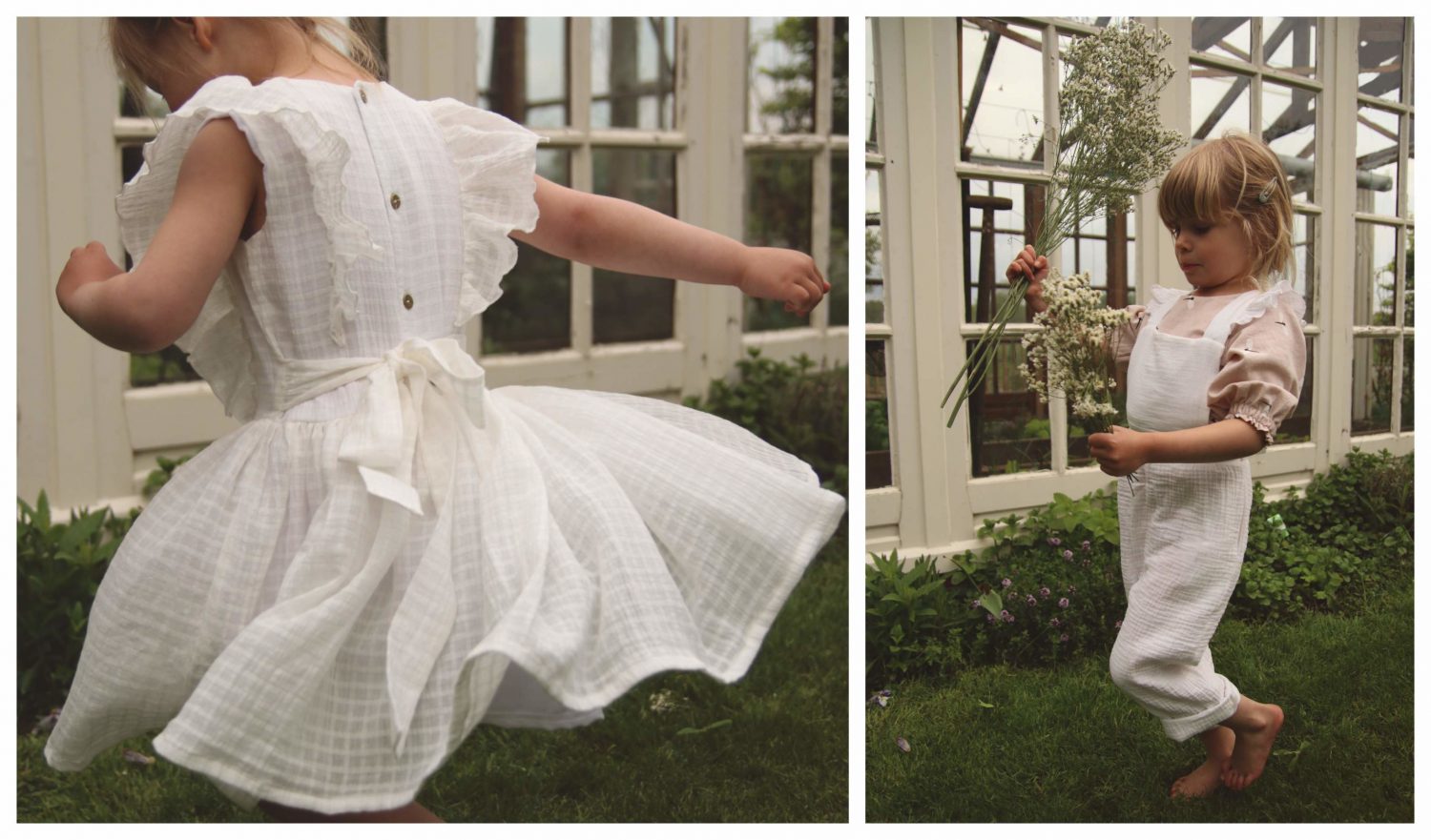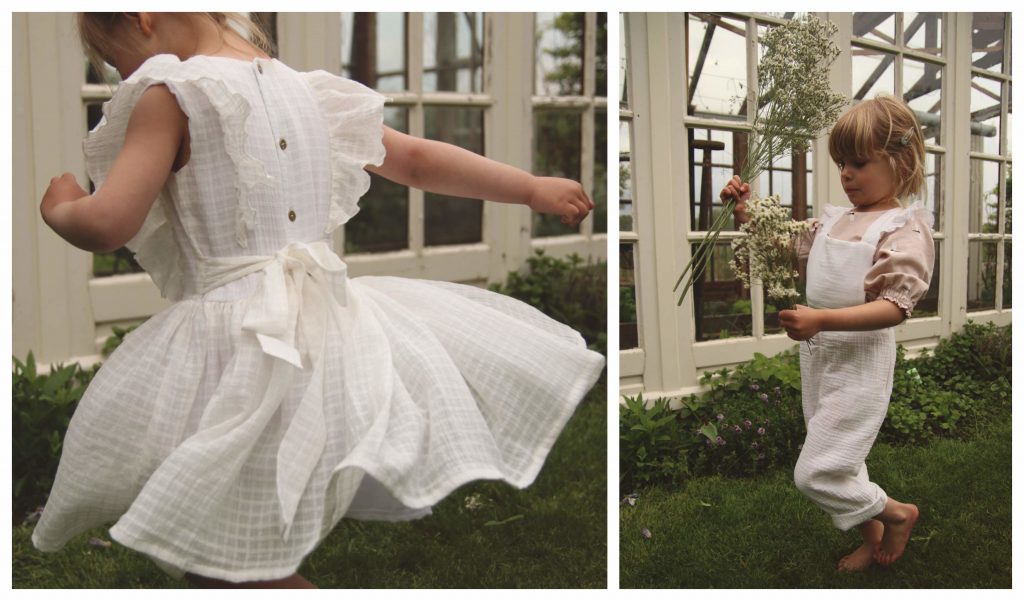 Om mijn meisjes helemaal om te toveren tot engeltjes bracht ik in beide ontwerpen een accent dat verwijst naar de vleugels.
To completely transform my girls into little angels, I put an accent in both designs that refers to angel wings.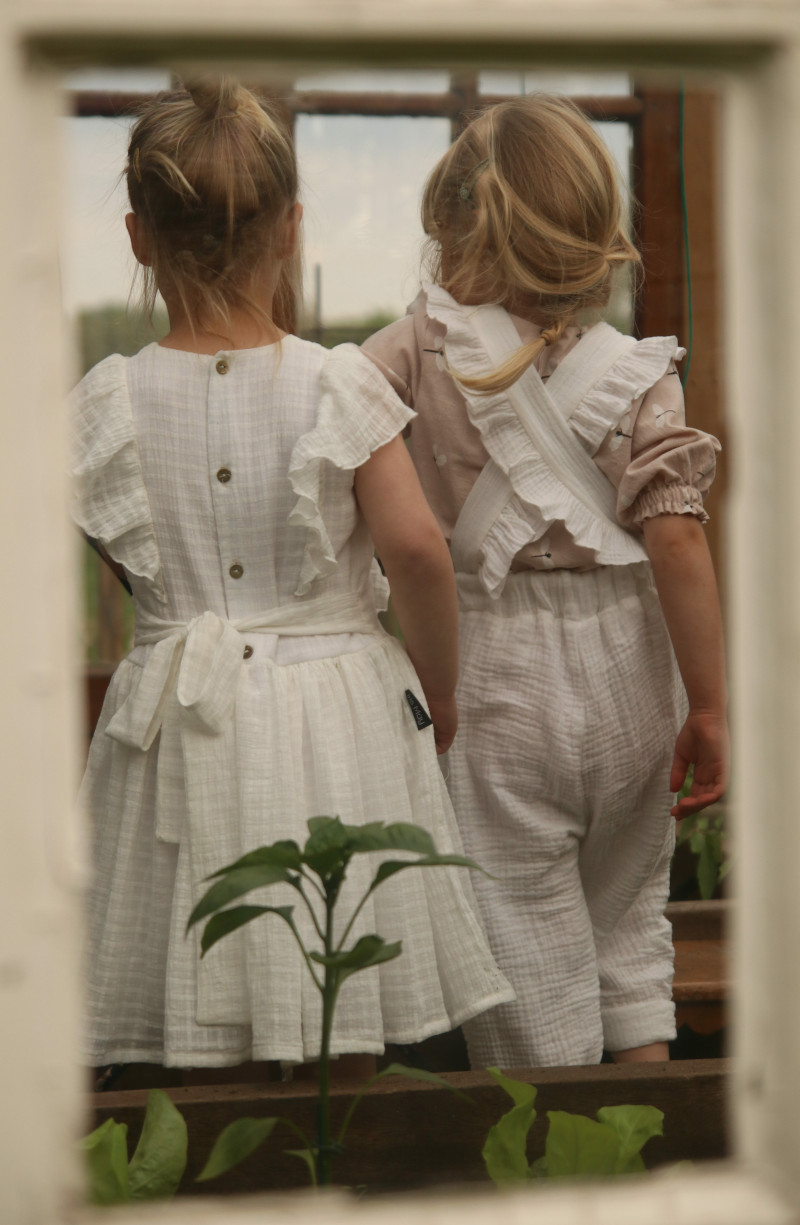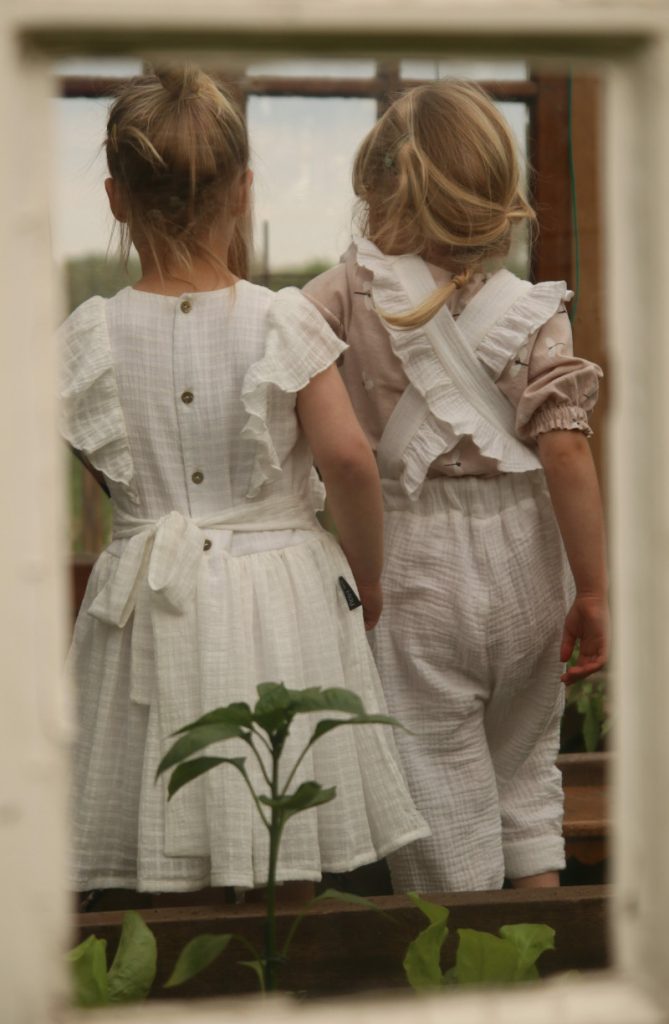 Ik gebruikte voor de eerste outfit de Robinjurk als basis. Er werden nieuwe, brede ruffles uitgetekend die ik zo naaide dat ze over de schouders kwamen te hangen. Op die manier creëerde ik de romantische vleugeltjes. De rimpelrok tekende ik breder uit zodat er extra zwier in het jurkje kwam en als kers op de taart voegde ik een striklint toe. De blik op mijn kleuters gezicht was onbetaalbaar wanneer ik haar deze jurk liet zien.
For the first outfit, I used my Robindress as basis. I added wide ruffles that I positioned so that they came to hang over the shoulders. In this way I created the romantic wings. I made the skirt wider so that the dress got extra swirl and as a icing on the cake I added a ribbon. The look on my toddler's face was priceless when I showed her this dress.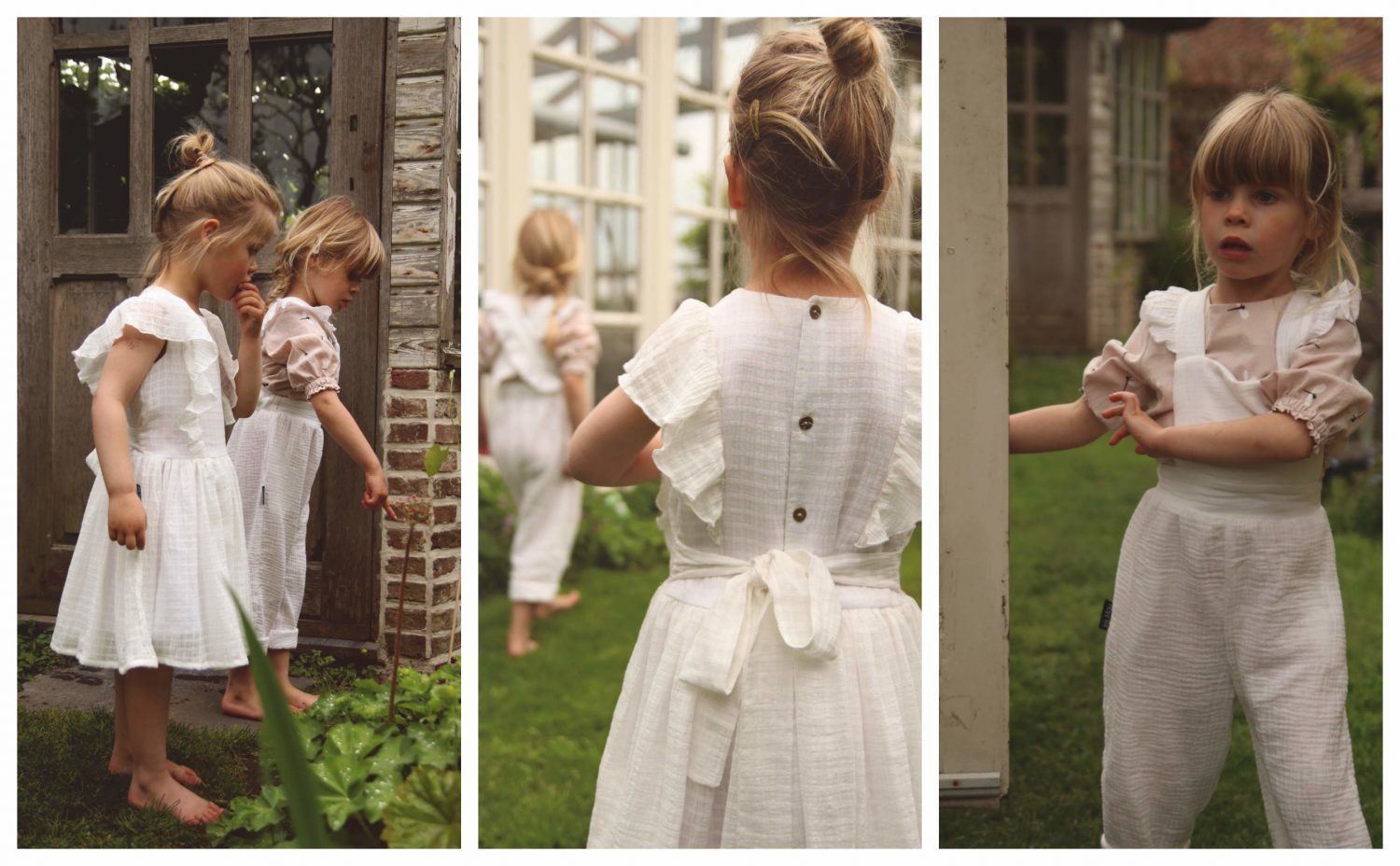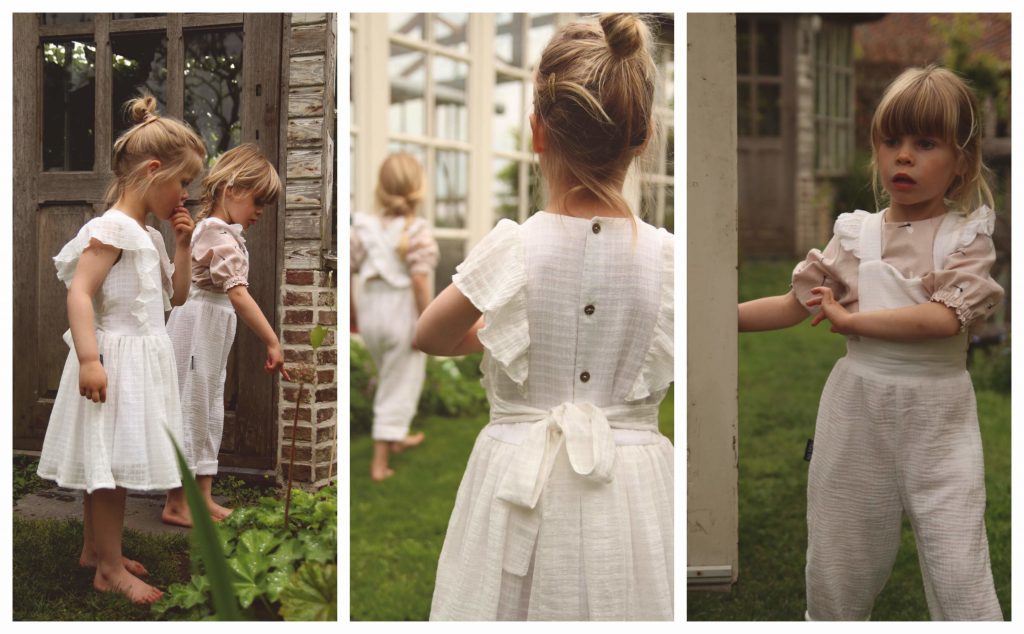 De tweede outfit bestaat uit twee delen: een jumpsuit en een blouse. Als basis voor de jumpsuit gebruikte ik mijn Tintinpatroon. Ik verhoogde de taille en creëerde een jumpsuit door een vierkant bovenstuk met linten toe te voegen. Om ook hier de engelvleugels te laten terugkomen, voegde ik ruffles toe aan de linten. Deze linten kruisen op mijn dochters rugje en worden met een knoop binnenin de broek aan de jumpsuit bevestigd. Voor de blouse gebruikte ik een iets stroevere double gauze. De libellen op de beigegetinte stof zijn eveneens een verwijzing naar de feeërieke sfeer. Ik tekende de blouse als nieuw patroon uit. Ik tekende wijde 3/4e mouwen die aan de uiteinden toestroppen met een elastiek.
The second outfit consists of two parts: a jumpsuit and a blouse. I used my Tintin pattern as the basis for the jumpsuit. I raised the waist and created a jumpsuit by adding a square top with ribbons. To make the angel wings come back, I added ruffles to the ribbons. These ribbons cross on my daughter's back and are attached to the jumpsuit with a button inside the pants. I used a slightly stiffer double gauze for the blouse. The dragonflies on the beige-colored fabric are also a reference to the fairy-like atmosphere. I drew the blouse as a new pattern. The wide 3/4 sleeves were frowned at the ends with an elastic.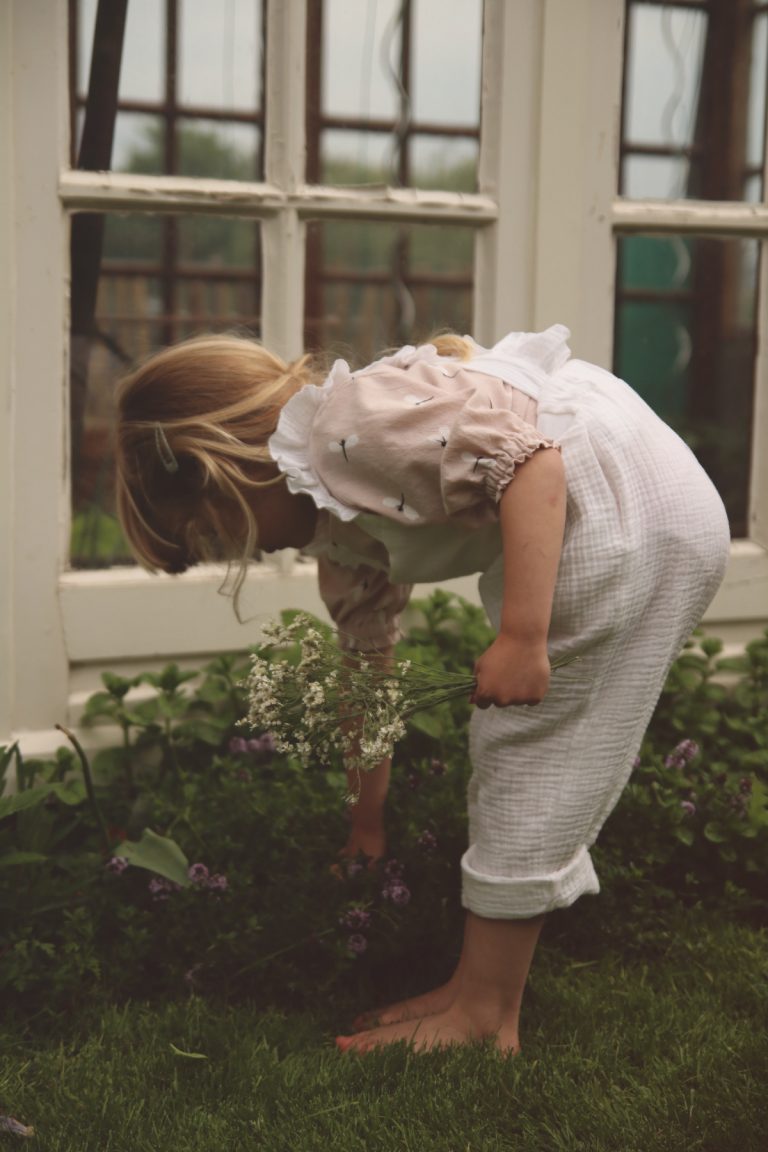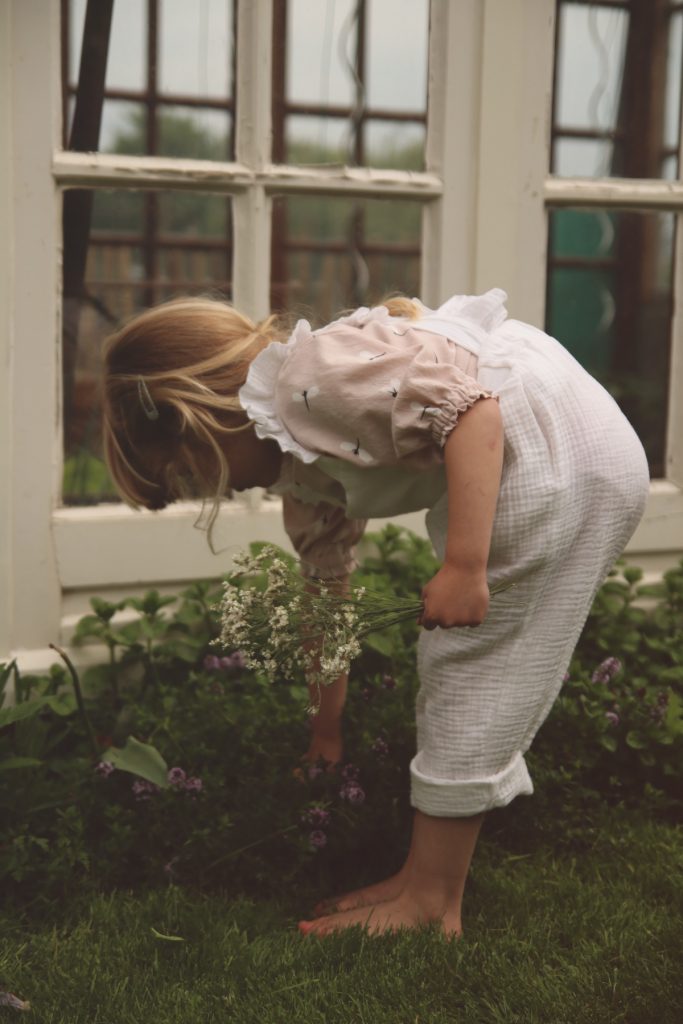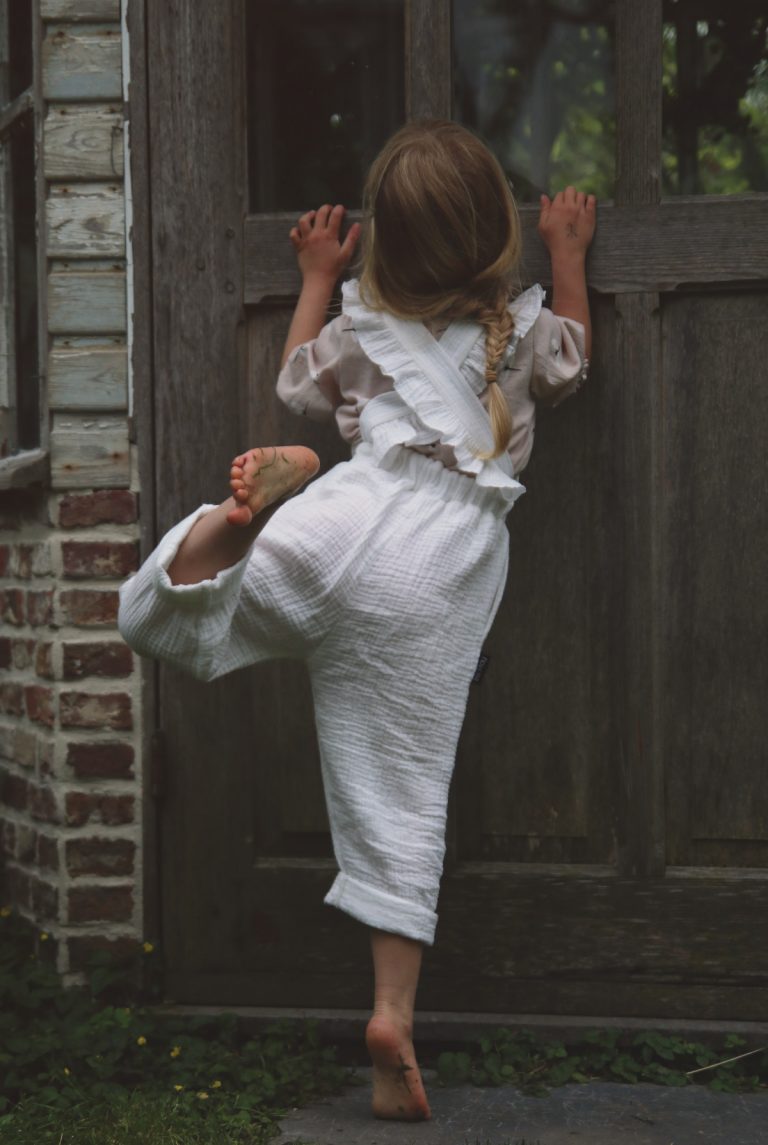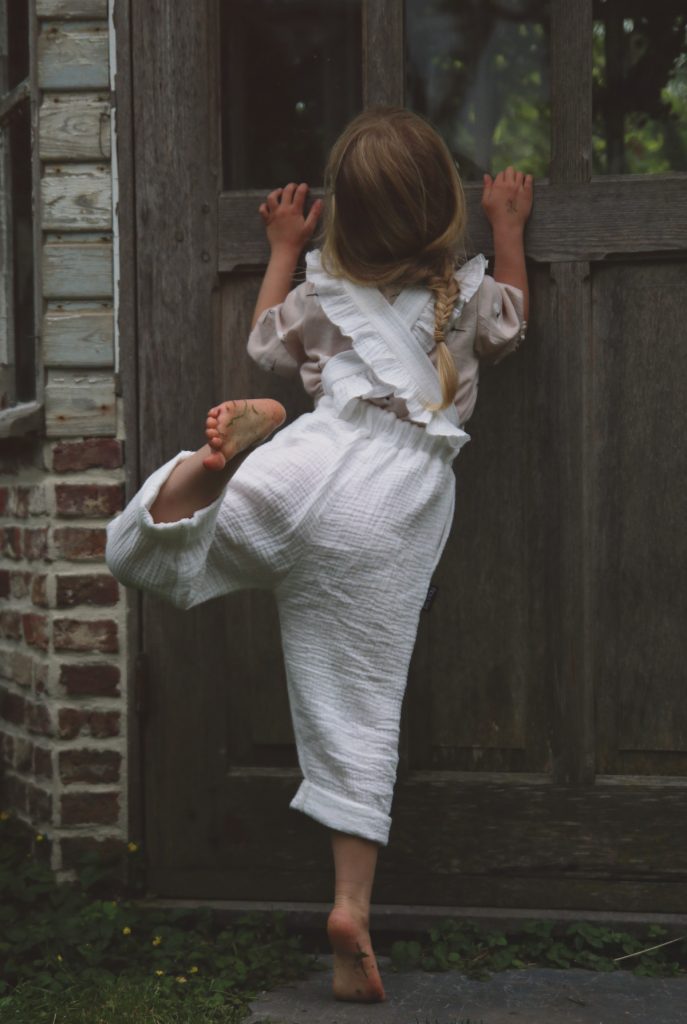 Omdat de meisjes gisteren jarig waren, maakte ik een klein extraatje. Ik vervolledigde de outfit met twee kroontjes en gebruikte hiervoor het gratis patroontje van Smospotten en Snoesjes.
Because it was my girls' birthday yesterday, I made a little extra. I completed the outfits with two handmade crowns for which I used the free pattern of Smospotten and Snoesjes.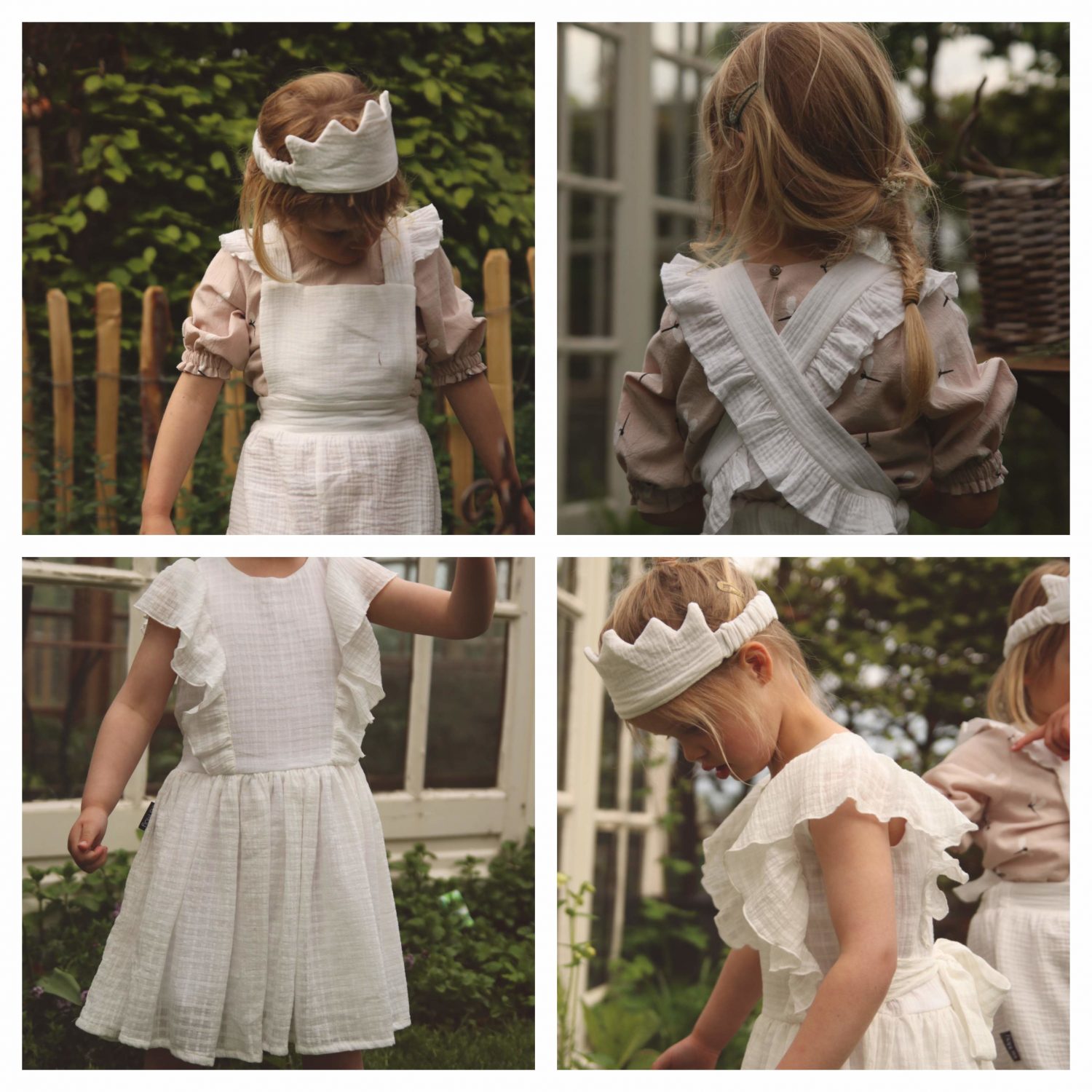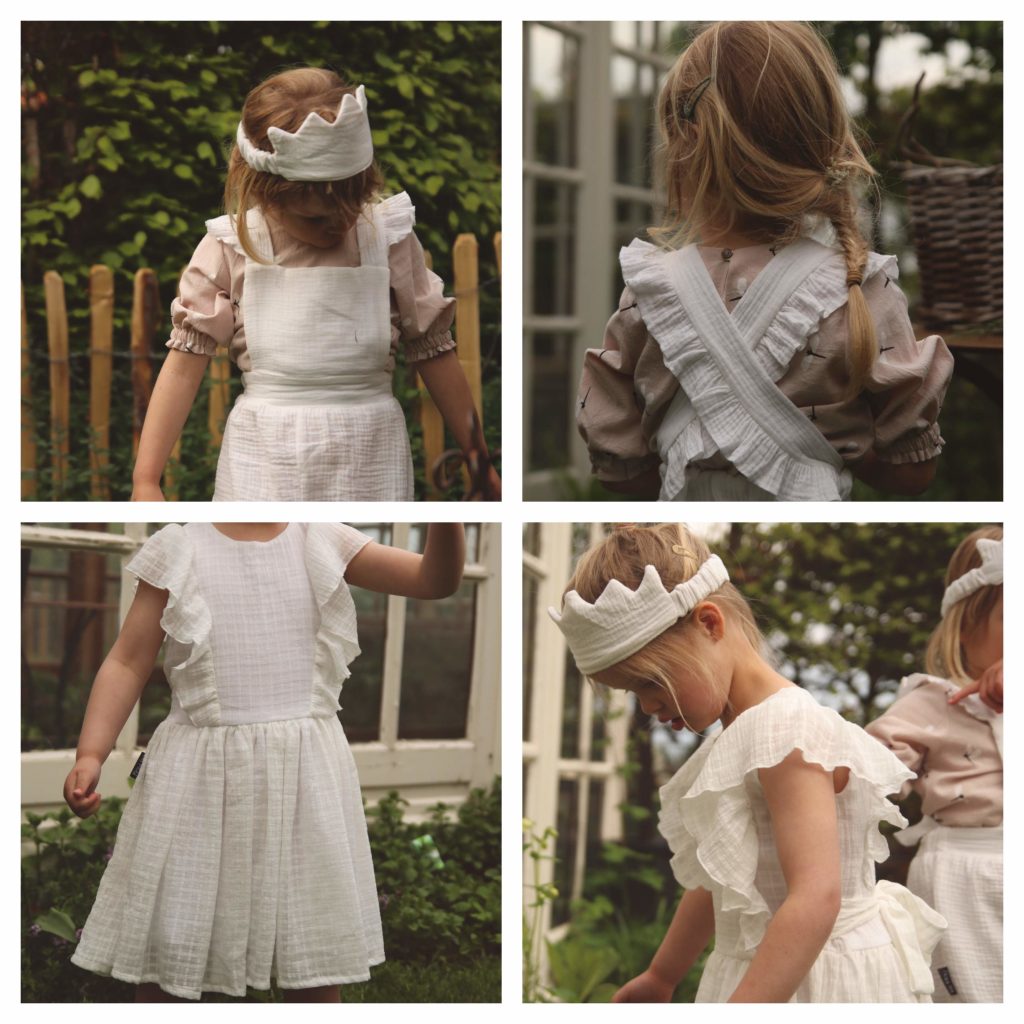 De meisjes waren alvast dolenthousiast met hun verjaardagsoutfit, hopelijk jullie ook!
The girls were very enthusiastic with their birthday outfits, hopefully you like them as well!
Een stem voor jullie favoriet ontwerp kunnen jullie HIER uitbrengen.
You can vote for your favorite design HERE.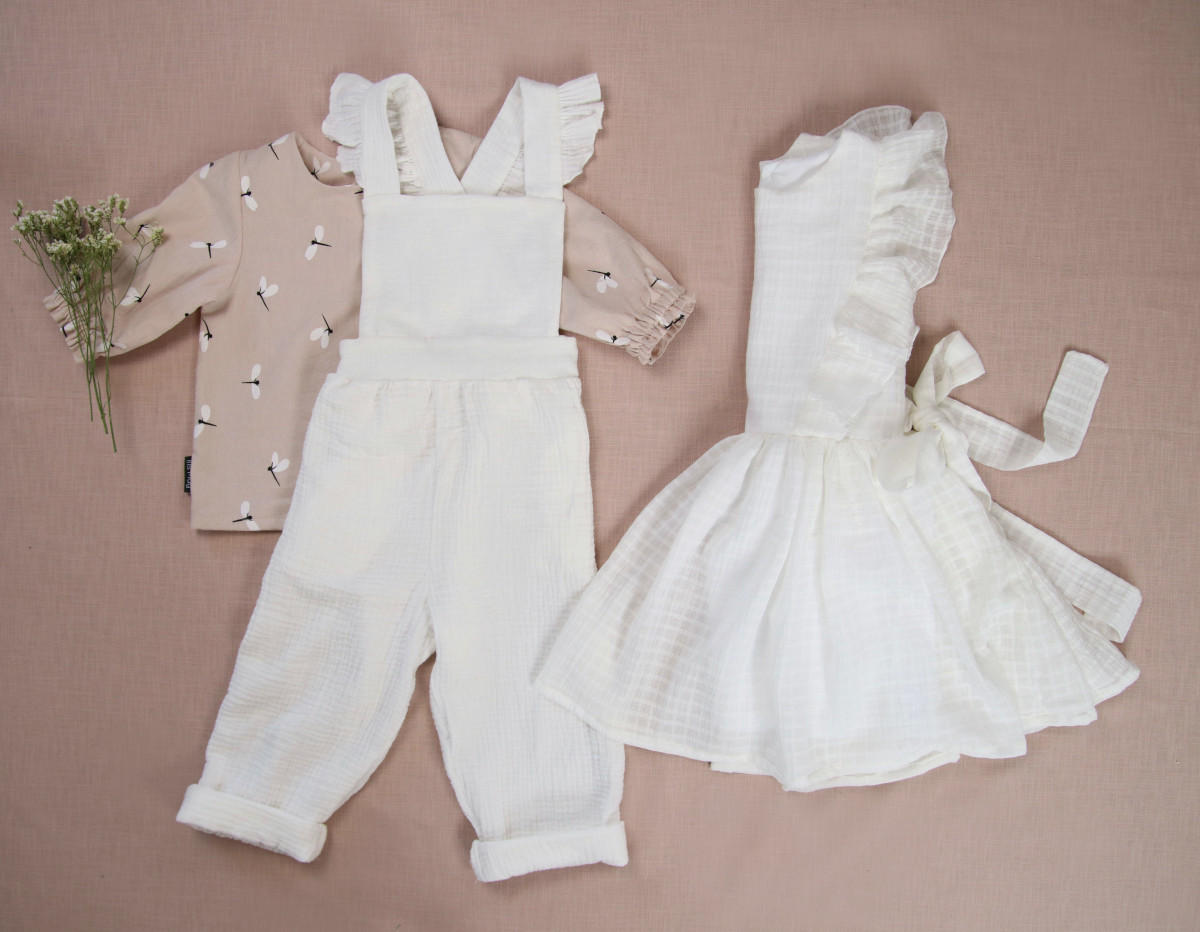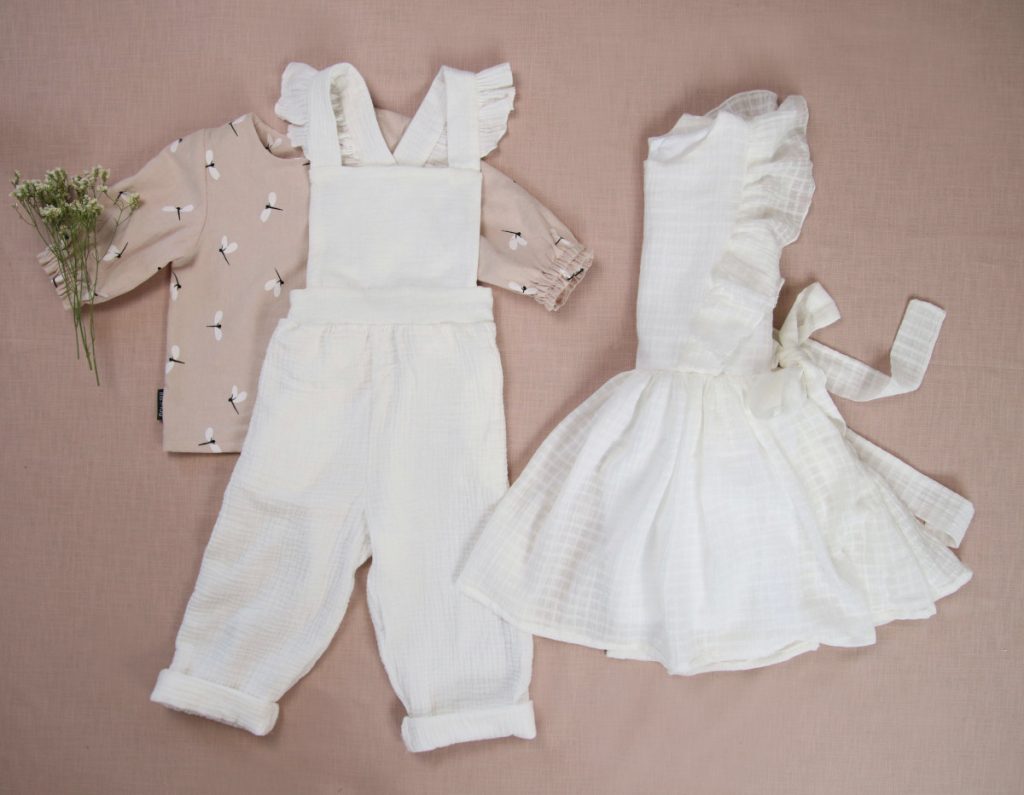 You May Also Like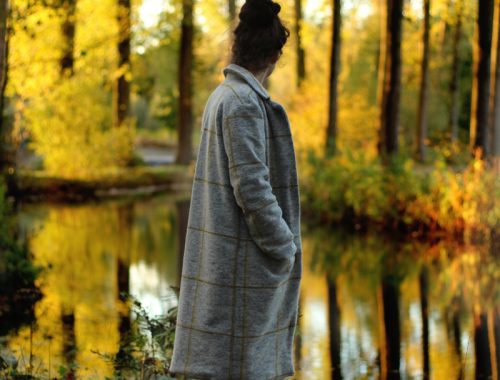 5 november 2018
2 november 2020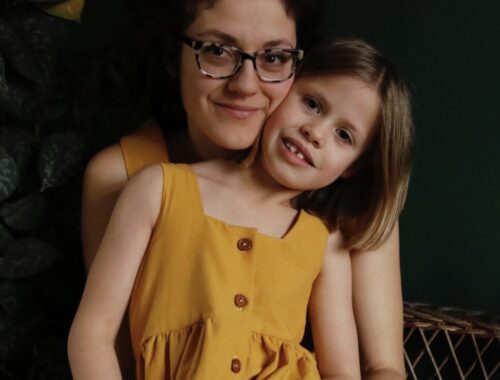 15 februari 2022