My little Indian
21 augustus 2018
Een tijdje geleden maakte ik een indianenkostuum voor mijn meisjes. Enkele weken later komt het er  eindelijk om de foto's te bloggen.
A while ago I made an Indian costume for my girls.
Als basis voor haar indianenkostuum gebruikte ik de Eloise jurk, het gratis patroon van Annick (Minniemie).
As basic for this costume I used the Eloise dress (Minniemie).
Als stof gebruikte ik een velours stofje met veren dat ik in modestofjes vond. Tussen het bovenstuk en de rok van het patroon, voorzag ik een driehoek waarin ik strookjes knipte. Ik gebruikte hiervoor de omgekeerde kant van de stof.
As a fabric I used a velvet fabric with feathers that I found in modestofjes. Between the top and the skirt of the pattern, I provided a triangle in which I cut strips. I used the reverse side of the fabric.
Omdat het patroon oorspronkelijk bedoeld is voor een tricotstofje, moest ik een manier zoeken waarbij mijn meisje gemakkelijk haar jurkje aan en uit krijgt. Daarom knipte ik het patroon van het achterpand in twee. Aan de hals tekende ik 1 cm extra omdat er voor deze jurk geen boordstof werd gebruikt. De hals werkte ik af met een beleg. De middenachternaden werden afgewerkt met een strook stof die ik bevestigde zoals het knopenbeleg bij een hemd of bloesje. Tussen deze strook voorzag ik bovenaan twee lintjes.
Because the pattern was originally intended for a jersey fabric, I had to find a way in which my girl easily gets her dress on and off. That's why I cut the pattern of the back in two. I drew 1 cm extra on the neckline. I finished the neckline and centerline with a stroke of facing.
Ook voor het rokpand deed ik een aanpassing. In plaats van een rimpelrok, tekende ik een a-lijn rok die bovenaan even breed is als het bovenstuk.
I also made an adjustment for the skirt. Instead of a gathered skirt, I drew an a-line skirt.
Dankjewel voor je bezoekje!/ Thx for your visit
Patroon: aangepaste Eloisejurk
Stof: Velours met veertjes uit modestofjes


You May Also Like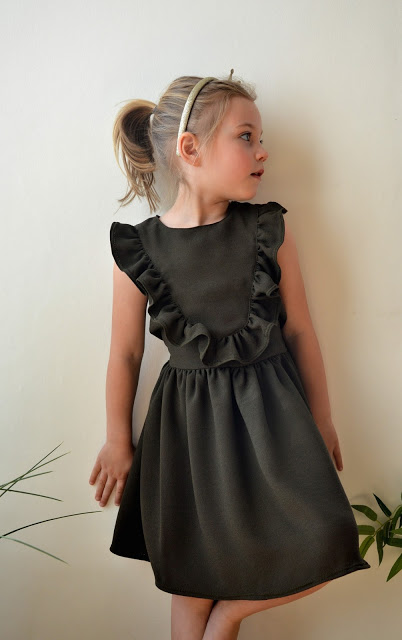 9 maart 2018
19 maart 2019